We're there - Christmas is just a week away. Are you ready? I'm almost ready. I do love this time of year, not the shopping and crowds mind you, but the festive decorations and the excitement of the season. There's a neighborhood near us that is spectacular - two streets of houses decorated beyond belief. Wouldn't want their electrical bill but boy do I appreciate their efforts in making the holiday special for others.
HOME FOR CHRISTMAS - is a novella that features two Christmas stories. The second story features Mitch Ryder, a cowboy set in his ways and happily living life with his companion, a dog named Sam. He sees a hitchhiker as he's driving along a lonely country road and pulls over. After getting Sam's approval, he offers her a ride and his life changes in ways he never thought possible.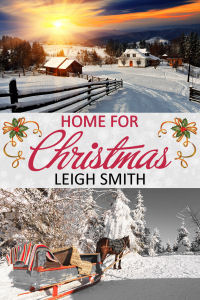 In this scene, as Bonnie and Mitch continued down the highway, they see a road block ahead and Mitch notices an edginess about Bonnie.
"Is there something I should know before we go any further?"
"I don't know, is there?"
"Don't go getting smart mouthed with me. Are they looking for you?"
He watched as a shudder seemed to ripple through her body. "Not sure, maybe."
"Have you done anything illegal?"
"No."
"Are you sure, I don't want any trouble."
"No, I haven't done anything illegal. In only took what was mine."
Want to know more about Bonnie and Mitch and what she took. You'll just have to read their story.
It's available
LSF Publications
and
Amazon
as well as on Kindle Unlimited.
Be sure to visit the other blogs listed below: