Happy Holidays all. Not sure if anyone will even have time to stop by today but if you do, welcome.
The last couple of weeks I've featured my Christmas books, today though I'm featuring a book written back in 2014. For some reason, it's been one of my favorites and it does have a Christmas scene that makes it appropriate for the day.
DESTINY TAKES A HAND
Christopher Matthew Chambers, the eldest son of a wealthy New York family, shows little interest in the family business, preferring to do his own thing much to the disappointment of his father. When a relative of his mother dies and the family inherit 10,000 acres of prime real estate known as Sutter's Ridge, situated in the Sierra Nevada Mountains, Christopher is sent to attend to the funeral arrangements and clear up any remaining legalities.
During his visit, however, the weather takes a turn for the worse and he finds himself in the middle of a snow storm. While driving back down the mountain he is forced to swerve to avoid a stray elk - his truck ends up stranded in a ditch and his leg is injured. After a couple of hours with no help in sight, Christopher sets off on foot in search of somewhere to hole up until the storm passes. Fortunately, he stumbles across the house of Samantha Fremont, a sexy but feisty young woman with whom he feels an instant attraction. A passionate romance quickly blossoms but Samantha's fiery temper and stubbornness make for some turbulent times. The sex between them is great but Samantha is headstrong and not inclined to listen to advice, even when it's in her own interest.

This Christmas scene takes place in the latter part of the book. Sam is meeting Chris' family for the first time and they, too, get to experience her feisty temperament.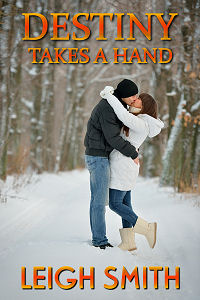 'How dare you to tell me what I am and what I am not going to do." You have no say over me, M. Big Shot Christopher Chambers,"
"It's dangerous and if you don't have the sense you were born with then someone has to step in and haul you back."
"And you get to make that determination because you're 'The Man'."
"Maybe, and I am The Man, but I am also the one who is thinking about your well-being, even if and when you're not."...
"You think what you want but I wouldn't want you to hold your breath."
"Well, you're not coming back inside until you apologize, so it's a matter of how long you can hold out, here in the cold."
"Don't threaten me."
"I'm not, I am just telling you that you are not invited back inside to join us until you apologize. The rest is up to you."
The above is just one of the many altercations between Sam and Chris. If you want to find out how this ends and whether or not they have a good Christmas, you'll just have to read the book.
Available at LSF and Amazon as well as on Kindle Unlimited.
Have a great holiday and be sure to visit the other bloggers on this hop.